The best in the west
ABOUT
This October,
Team 254
is hosting the seventh annual Chezy Champs, a premiere off-season FIRST Robotics competition event.
40 teams will come together in San Jose, California to battle it out to determine the best in the west.
Due to the COVID-19 pandemic, Chezy Champs 2021 is not open to the public.
Questions? Contact us at
INFORMATION
Chezy Champs features an entertaining show, competent volunteers, and a focus on the team experience. There will also be 254-style photo shoots for all robots Friday evening, blue banners and awesome trophies, and rule changes.
The up-to-date list of competing teams, along with match results (once the event starts) can be found on
The Blue Alliance
.
When: Saturday and Sunday, October 30-31, 2021 (With Friday night load-in)
Where: Bellarmine College Preparatory, San Jose, California
Registration: $300 ($600 for field-side pit)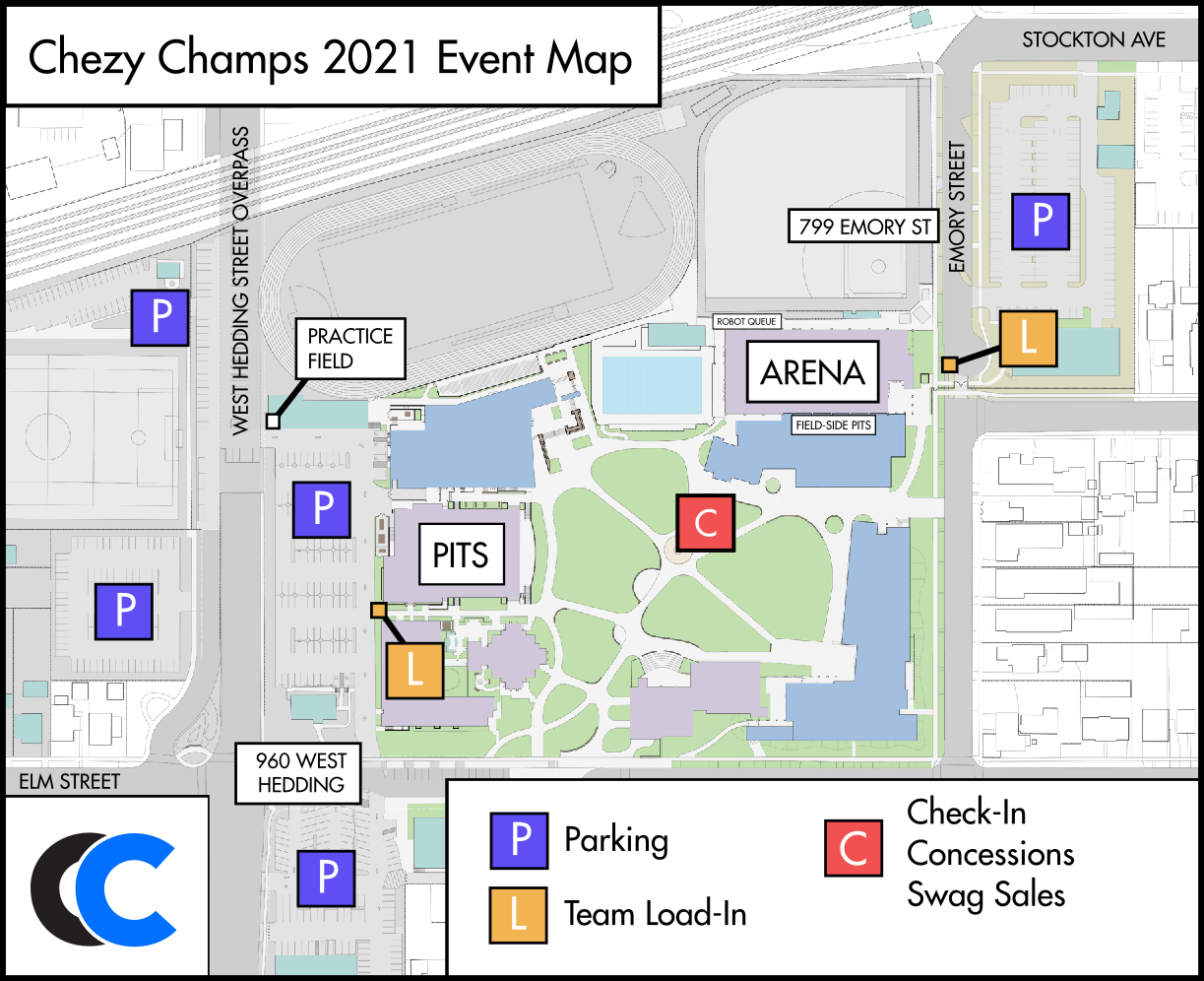 MAP
Chezy Champs has two parking areas which are not directly connected to each other:
Pit Parking
Arena Parking
For 2021, all participants must check-in, provide proof of COVID-19 vaccination, and receive an event wristband at the outdoor check-in desk (marked as "C" on the map at left) before being permitted into the event.
Friday, October 29
5pm
Check-in Opens to Teams
6pm
Pits Open to Teams, Load-in Begins
7-9pm
Open Practice Matches
9:30pm
Venue Closes

Saturday, October 30
8am
Venue Opens
9-9:30am
Driver Meeting
9:30-9:45am
Opening Ceremonies
9:45am-12pm
Qualification Matches
12-1pm
Lunch Break
1-7pm
Qualification Matches
7:30pm
Venue Closes

Sunday, October 31
8:30am
Venue Opens
9:15-9:30am
Opening Ceremonies
9:30-11am
Qualification Matches
11:45am-12pm
Alliance Selection
12-1pm
Lunch Break
1-4:30pm
Elimination Matches & Closing Ceremonies
6pm
Venue Closes
RULES
Chezy Champs will be played under the INFINITE RECHARGE rules with modifications as specified here.
Chezy Champs' COVID protocols and rules for 2021 are specified here. All participants are required to comply at all times and may be teams disqualified for noncompliance (see rule changes above).
SPONSORS
Interested in sponsoring Chezy Champs? Contact us at
WEBCAST
Chezy Champs will be livestreamed on this page. Check back on October 30th and 31st to watch!