The best in the west
ABOUT
Chezy Champs is an annual off-season FIRST robotics tournament hosted by Team 254. The tournament takes place in late September, at Bellarmine College Preparatory in San Jose, California. This fall, Team 254 is hosting the third annual Chezy Champs, a premiere off-season FIRST Robotics competition event. 43 teams will come together in San Jose to battle it out to determine the best in the west.
Questions? Contact us at
INFORMATION
Chezy Champs features an entertaining show, competent volunteers, and a focus on the team experience. There will also be 254-style photo shoots for all robots Friday evening, blue banners and awesome trophies, and rule changes.
When: Saturday and Sunday, September 24-25, 2016 (With Friday night load-in)
Where: Bellarmine College Preparatory, San Jose, California
Registration: $300 ($600 for field-side pit)
MAP
Chezy Champs has two parking areas which are not directly connected to each other:
Pit Parking
Limited pit parking is available at 960 W. Hedding St. San Jose
Arena Parking
Take Stockton Ave to 799 Emory St. San Jose
SCHEDULE
Friday, September 23
6-9pm
Team Load-in
7-9pm
Practice Matches
9:30pm
Venue Closes

Saturday, September 24
8am
Venue Opens
9-9:30am
Driver Meeting
9:30-9:45am
Opening Ceremonies
9:45am-12pm
Qualification Matches
12-1pm
Lunch Break
1-7pm
Qualification Matches
7:30pm
Venue Closes

Sunday, September 25
8:30am
Venue Opens
9:15-9:30am
Opening Ceremonies
9:30-11am
Qualification Matches
11:30am-12pm
Alliance Selection
12-1pm
Lunch Break
1-4:30pm
Elimination Matches & Closing Ceremonies
6pm
Venue Closes
RULES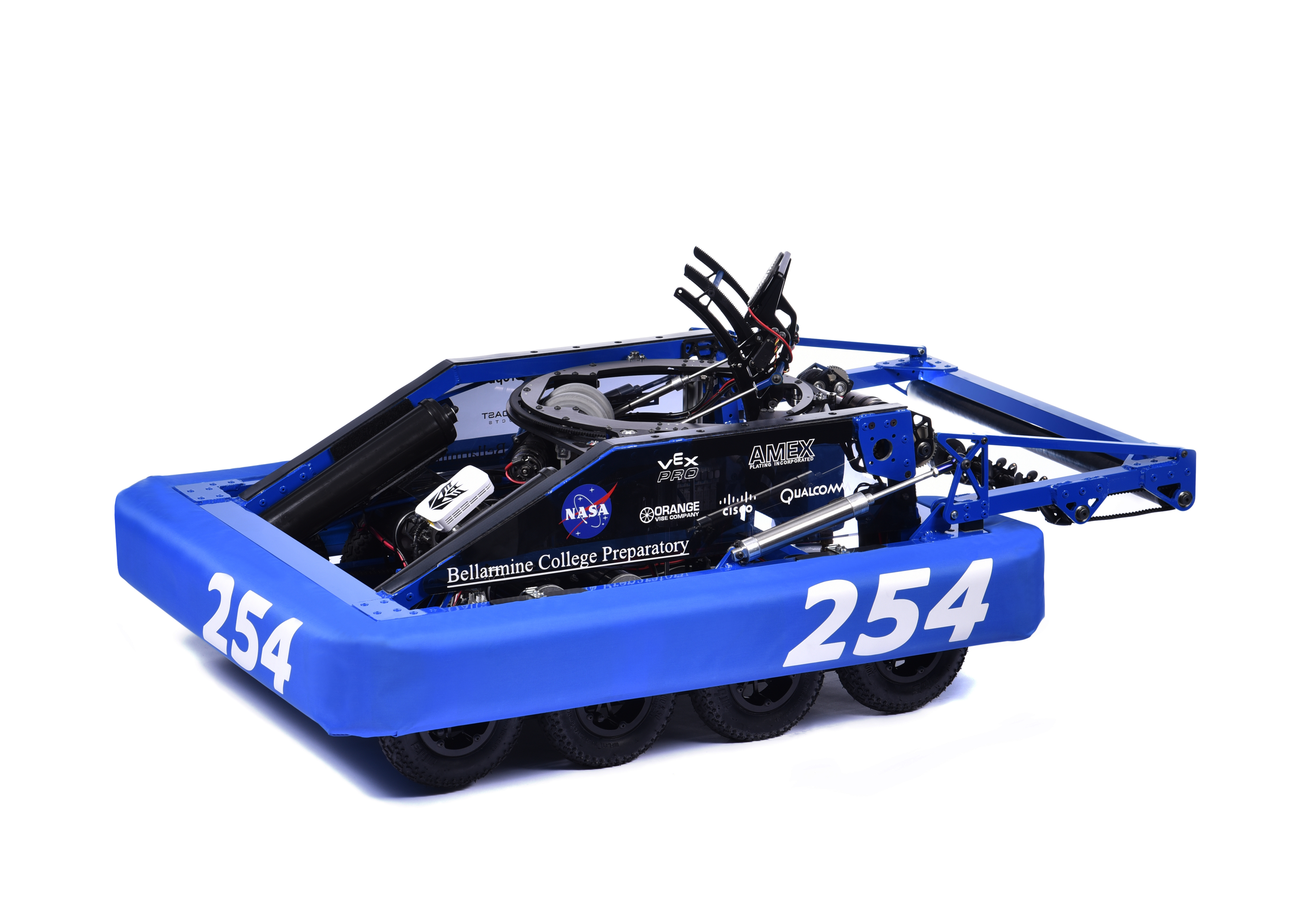 Chezy Champs will be played under the FIRST Stronghold rules with the following modifications:
1. The initial TOWER STRENGTH will be 10.
2. The Low Bar will always be in Position 1. The remaining available DEFENSES will be: Cheval de Frise, Moat, Ramparts, Rock Wall, Rough Terrain. There are no DEFENSE categories; any four of the five will be present in Positions 2 to 5 of the OUTER WORKS. The Portcullis, Drawbridge and Sally Port will not be used at Chezy Champs.
3. During qualification matches, the DEFENSES in Positions 2 to 5 will be randomly selected and placed once per round of all teams playing. There will be no audience selection of DEFENSES.
4. During playoff matches, each ALLIANCE will select the defenses and their placement in Positions 2 to 5 of their own OUTER WORKS.
5. A ROBOT contacting carpet in the opponent's SECRET PASSAGE may not contact opposing ROBOTS who are in contact with the carpet in the SECRET PASSAGE, regardless of who initiates the contact.
6. After a ROBOT CROSSES a DEFENSE in AUTO, it will no longer incur a FOUL for crossing the MIDLINE or contacting an opposing ROBOT.
7. There will be no playoff tiebreakers; all ties are replayed.
8. Elimination alliances will contain 4 teams. Alliance selection will be 1-8, 8-1, 1-8. Alliance captains may play whichever 3 teams they choose in each match. No backup bots.
9. +5 pound weight allowance to allow for modifications, repairs.
10. No robot inspection. Event organizers may challenge suspected robot rules violations and may request modifications.
SPONSORS
Interested in sponsoring Chezy Champs? Contact us at

The VEX Robotics Design System offers students an exciting platform for learning about areas rich with career opportunities spanning science, technology, engineering and math (STEM). These are just a few of the many fields students can explore by creating with VEX Robotics technology. Beyond science and engineering principles, a VEX Robotics project encourages teamwork, leadership and problem solving among groups. It also allows educators to easily.